Pre-owned Sales
The following products are available for sales and they can be inspected at our showroom. For sales queries, please contact
Cecil Tan (96176046)
. All prices listed are in Singapore Dollars (SGD), unless otherwise stated. This website is managed by Silbatone S.E.A. Read our
Terms & Conditions
for your reference.
Updated:
20 Jan 2023
View Sold Products
Pre-owned Search&nbsp&nbsp&nbsp
Soulution 330 Integrated Amplifier
Most integrated amplifiers combine the functions of volume control, source selection and amplification in single multi-function circuit. Not so the soulution 330 Integrated amplifier. It takes the uncompromising route of separate circuits, combining a dedicated preamplifier, and a dedicated power amplifier in one housing. It is a real soulution product – truly a great amplifier.
The amplification circuit of the 330 is based on the technology used in our Series 5 amplifiers. Current amplification is done in three stages, each with a narrow, almost linear operating range. The high Class A operation supplemented by more than 160,000 µF of storage capacitance results in a nearly infinite impulse response.
In absolutely mint condition! Comes with remote control, accessories, owner's manual and original box. Still current model, and includes optional DAC module. Like buying a new unit!
Click here
for more info.
Click here
for full review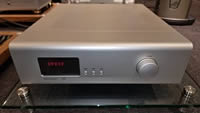 Retail Price:
$36,900
Price (SGD):
$16,900
Audio Research Reference 75 Power Amplifier
The Reference 75 is a stunning amplifier in every way – performance, styling and reliability combined to elevate your music listening to a new experience. Capable of controlling a wide variety of speakers, the Reference 75 will transport you into the musical performance unlike any other comparable amplifier.
The Reference 75 is the new generation from a lineage of amplifiers only Audio Research could produce. Experience real music and unleash the capacity of your system – music in High Definition®.
In mint condition, output tubes recently replaced.
Click here
for more info.
Click here
for full review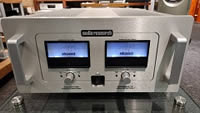 Retail Price:
$12,500
Price (SGD):
$6,500
Gryphon VIP Reference Speaker Cable 2m
The Gryphon VIP loudspeaker cable incorporates multiple individually insulated multi-strand conductors of the purest PC-OCC silver with varying diameter in order to combat resonance. Teflon is utilised for tight-fitting, effective insulation. For extreme stability and durability, the two conductors are wrapped in PVC jackets and nested alongside two PVC sheaths filled with air-core Polyethylene tubes to maintain constant distance between the conductors.
Finally, cotton filling, a non-woven fabric sheath and an outer jacket of thick PVC are fitted to create a rigid construction that protects the conductors from external mechanical forces and damage caused by bending and flexing.
In mint condition, with original carry case and papers. 2m pair, factory terminated with gold spades.
Click here
for more info.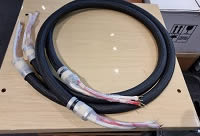 Retail Price:
$12,700
Price (SGD):
$4,800
Audio Research Reference CD9 SE
The Reference CD9SE incorporates four digital inputs: USB 2.0HS, AES/EBU, RCA, and Toslink. All inputs handle 24 bit / 192k resolution. The Reference CD9SE retains the Philips PRO2R transport, still the best dedicated CD mechanism that is simply unsurpassed for compact disc playback.
Like other Reference products, the analog section is vacuum-tube, with four 6H30 dual-triodes, and there is vacuum-tube power-supply regulation featuring a 6550WE with a 6H30.
Sonically, the Reference CD9SE is in a new class, combining the magical musicality of tubes with remarkable transparency and aliveness. The Reference CD9SE sounds fast, with great transient speed, improved dynamics from top to bottom, much greater resolution of inner detail, with a focus and purity that is captivating.
In absolutely mint condition and looks like new! Comes complete with remote control, owner's manual and original box. Probably the best CD player in the market today!
Click here
for more info.
Click here
for full review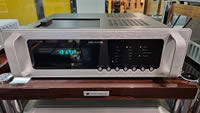 Retail Price:
$27,000
Price (SGD):
$14,000
Sonus Faber Guarneri Memento Loudspeaker
System: 2 way vented box loudspeaker incl Stands
- Cabinet:lute shape design, constrained-mode damping, enclosure formed using 21 pieces of hand selected solid maple wood.
- Tweeter: 25 mm ultra dynamic linearity ring radiator driver, with dual toroidal wave-guide.
- Mid-woofer: 150 mm ultra dynamic linearity driver. Ccaw/kapton "eddy current free" voice coil. Dynamically linear magnetic field motor incorporating kellog and faraday rings. All moving lements optimally ventilated for "resonance free" response.
- Cross-over: designed along the philosophy of the least interference with the musical path. The conceptually minimalist implementation uses 6 db/octave slopes and components of the highest quality and coherence. A unique structured silver-palladium alloy conductors used, totally coherent on the entire signal path.
Cross-over point 2.500 hz.
- Frequency response: 39 hz - 30.000 hz, tuning port included.
- Sensitivity: 88 db spl (2,83 v/1 m).
- Nominal impedance: 4 ohm.
- Power handling: 30w - 200w, without clipping.
In excellent condition, with matching original stands. A true legend and one of the iconic Sonus Faber models that are highly sought-after.
Click here
for full review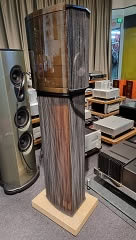 Retail Price:
$20,500
Price (SGD):
$7,990
Silbatone S.E.A. represents the following brands: Silbatone Acoustics, PS Audio, Audio Solutions, Audience, Bryston, Reed, Kronos, Gershman Acoustics, Audio Philar, My Sonic Lab, G.I.P. Laboratory and Flux Hifi.

Durand Telos 12 Inch Tonearm
The Telos is our top-of-the-line model. It is the result of intensive interdisciplinary research, from shape optimization, stress analysis to materials science, guided by observation and informed by theory.
The experience acquired in the long period that led to the Talea™ proved invaluable when developing this new tonearm. In some ways, it is a radical extension of the earlier project, and in other ways, it treads new ground by bringing new types of possible adjustments.
In excellent condition, with original wooden carry case and all accessories. Reputed to be one of the best tonearms in the world.
Click here
for more info.
Click here
for review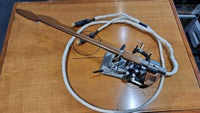 Retail Price:
$34,000
Price (SGD):
$12,500
Audio Note NEIRO Monoblock Power Amplifier
8 watt Pure Class A parallel single-ended no feedback mono power amplifiers with choke coupled valve rectified power supply and Cerafine filter caps, UHiB double C-core with copper primary and Audio Note™ silver secondary windings, Audio Note™ copper foil signal caps and 1 watt tantalum resistors, Silmic and Black Gate decoupling caps, fully Audio Note™ silver wired circuit, valve compliment 4 x 2A3, 2 x NOS 6SN7, 2 x NOS 5R4GY.
In absolutely mint condition and looks like new! A great opportunity to own a very rarely seen, superb quality SET amplifier from ANUK. Still current model.
Click here
for more info.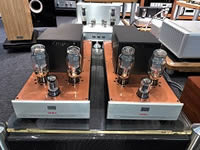 Retail Price:
$48,000
Price (SGD):
$19,990
VAC Signature Mk.IIa SE Preamplifier
The Signature's line stage has no coupling capacitors to detract from the purity and detail of the hand-wired circuit. With no loop feedback, the output is stable and free from dynamic interactions with the load. Six standard line inputs (five when phono is fitted) are present, as well as a fully balanced Cinema Bypass input.
The optional six-tube phono stage is sensitive and quiet, compatible with low-output, moving coil cartridges. Gain is adjustable, as is resistive loading. Electrostatic decoupling prevents the heater circuits from "talking" to each other, a common cause of lost detail. A separate power transformer is used, eliminating any disturbance of the delicate phono signal by the powerful line stage.
The VAC logos are backlit in an elegant blue in normal operation, and display red when the mute is activated. These are set in the heirloom-quality sculpted 3/8" faceplate.
The Signature SE (Special Edition) input transformers are the premium designs used in the Statement and Master ranges.
This is the current model in mint condition, with remote control. This unit also includes the optional full-tube phono stage.
Click here
for more info.
Click here
for full review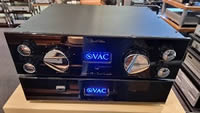 Retail Price:
$35,000
Price (SGD):
$16,000
Lenco L75 Idler-Drive Turntable with Shure V15 III HE
The Lenco L75 record player is a precision instrument of true hifi quality which will satisfy even the most demanding music love.
The instrument can be used for stereo as well as monophonic listening.
The usual speeds can be pre-set in click stops and the speed can also be varied continuously from 30 to 86rpm.
The light tonearm of the L75 is a first class example of fine mechanical precision, and guarantees clear, undistorted sound reproduction, with the greatest possible protection for your records.
In excellent condition and nicely reconditioned. Comes packaged with an almost new Shure V15 III HE cartridge and spare stylus.
Click here
for more info.
Click here
for review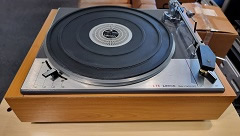 Harbeth Monitor 30.1 35th Anniversary Edition
The new Monitor 30.1 loudspeaker features a new, RADIAL2 mid/bass drive unit; a new, top quality SEAS tweeter (as used on the flagship M40.1); and a redesigned crossover. There is now a more open sound, a smoother response with greater, more even dispersion which means less critical stand height and a more involving listener experience.
The original Monitor 30 was unveiled in 1997 as successor to the BBCs medium-sized studio monitor loudspeaker, the LS5/9. It has remained in demand ever since. No other Harbeth model has been unchanged and in continuous production for as long. This validates the integrity of the original design.
In absolutely mint condition! Original boxes included, but no stands.
Click here
for full review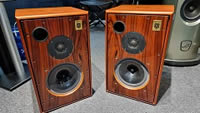 Retail Price:
$7,950
Price (SGD):
$4,200