Pre-owned Sales
The following products are available for sales and they can be inspected at our showroom. For sales queries, please contact
Cecil Tan (96176046)
. All prices listed are in Singapore Dollars (SGD), unless otherwise stated. This website is managed by Silbatone S.E.A. Read our
Terms & Conditions
for your reference.
Updated:
24 Sep 2022
View Sold Products
Pre-owned Search&nbsp&nbsp&nbsp
HRS MXR 4-tier Rack with M3X Shelves
The MXR Audio Stand is an industry leading design that eliminates noise, revealing a new level of musical performance. The frame itself is manufactured from six different materials including billet-machined aircraft aluminium and exotic finishes over a composite inner frame structure. The highly acclaimed HRS Isolation Bases load directly into the MXR frame as the shelf system. The MXR frame optimizes Isolation Base performance while offering unique flexibility and functionality. It is the last system you will ever need.
*Fully adjustable shelf system (quantity and location).
*Load range of each shelf optimized for maximum performance.
*Levelling system with locking feature for stability.
*Infinite cable access (no vertical or horizontal beams).
*Structure design for optimum Isolation Base performance.
*Unlimited expand-ability preserves initial investment.
Four ultra high frequency billet machined brackets support each shelf. The brackets are adjustable vertically allowing you to select ideal shelf spacing for your system. Regardless of the final shelf location you still will have infinite cable access because there are no front or rear braces to the main structure. You can also add or remove a shelf at any time without any modification to the rack structure or detracting in any way from its exceptional performance or beauty. The MXR Audio Stand was simply designed to be the last equipment stand you will ever purchase.
In pristine condition and comes with heavy-duty metal cone footers (not shown). Probably the most beautiful and well designed high-end audiophile rack you will ever see! Birdseye maple finish.
Click here
for more info.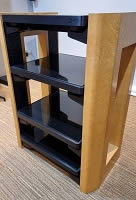 Retail Price:
$45,000
Price (SGD):
$25,000
Audience AU24 SX AES/EBU Digital Cable 1.5m
Au24 SX audio cables represent the biggest transformation in cable performance ever achieved by Audience. They are notably more transparent, dynamic, more resolved and have greater weight and authority which users find immediately noticeable. There are many reasons for the improvement, including the use of purer OCC copper (now six nines) and higher quality XLPE dielectric insulation as well as tweaking of geometry as compared to the historic lines of Au24 cables. Audience double cryogenically treats all SX cables in their in-house cryo-lab. Each component part of the cable is individually treated, then, after the cables are assembled and tested, the complete cable is cryo treated. This is process is called CRYO².
Au24 SX cables, like all previous Au24 cables, are low mass and low eddy current resistance designs with minimal jacketing materials. They retain natural timing and timbre thus recreating original sound fields like no other cables.
In as new condition, with original box. Still current model.
Click here
for more info.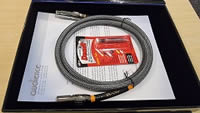 Retail Price:
$2,200
Price (SGD):
$1,300
Ansuz Digitalz D-TC USB Cable 2m
The Ansuz Digitalz USB D-TC cable is fitted with Ansuz's exclusive, high-performance technologis. Equipped with all these high-end audio technologies, this cable creates a natural and balanced holistic soundstage with an amazing black background. A refined sonic authenticity that unfolds even the finest, most subtle details throughout the entire sonic sound spectrum.

Cutting edge technologies.
Ansuz develops and manufactures cables based on advanced, cutting edge technologies. Ansuz cables deliver a pure signal flow that unleashes the authentic sound originally intended by the master recording. To achieve this, it is imperative to lower resistance, curb induction and reduce noise floor to a minimum. The more advanced the cable series, the more refined and sophisticated the implemented technologies, and the more transparent, holistic and authentic the resulting soundstage.

In as new condition, with grounding wire.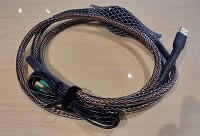 Retail Price:
$4,150
Price (SGD):
$1,800
Finite Elemente Ceraball (set of 3)
The genesis of the CERAfamily offers an excellent access into the world of finite elemente's sound enhancing systems. This being the 2nd generation version, Ceraball provides a screw-on function as well as an attractive budget price.
In near mint condition, with original box and accessories.
Click here
for more info.
Click here
for review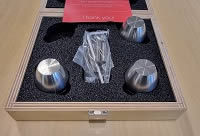 Retail Price:
$350
Price (SGD):
$180
SOtM ISO-CAT6 Special Edition Module with 0.5m Black Ethernet Cable
The state of the art iSO-CAT6 provides a high level of sound range and quality, with a noticeable difference for premium class hi-end audio systems – reducing the often-overlooked noise interference created by a LAN port.
The iSO-CAT6 is a must-have item for any audio system using a LAN port. Using iSO-CAT6 together with dCBL-CAT6, a LAN cable by SOtM, a better sound improvement effect can be obtained.
With SOtM iSO-CAT6, feel and enjoy the genuine music sound going beyond the limit of PC audio or network audio systems.
Mint condition and looks new! A few pcs available.
Click here
for more info.
Click here
for review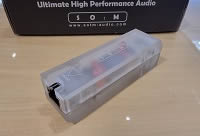 Retail Price:
$1,050
Price (SGD):
$550
Silbatone S.E.A. represents the following brands: Silbatone Acoustics, PS Audio, Audio Solutions, Audience, Bryston, Reed, Kronos, Gershman Acoustics, Audio Philar, My Sonic Lab, G.I.P. Laboratory and Flux Hifi.

Argento FMR Extreme Edition RCA 2m Pair
Handcrafted in Denmark since 1991, Argento Audio creates reference and breakthrough to high-end audio cable design and manufacturing. Argento Audio have taken the ultimate uncompromising path where every single element is custom designed and made as per our own specification.
Extreme Edition represents Argento Audio's pinnacle in the design and manufacturing of ultra high-end audio cables. Extreme resolution, extreme energy (in other words no loss of signals), extreme silence, extreme dynamic and tonality is accurate and expressed with extreme musicality. Hand-made with hundreds of strands of PURE SILVER, Extreme Edition is the end game of high-end cable searching.
In mint condition, with original leather case. Sold in very limited quantities, you'll probably never see another cable like this on the 2nd hand market!
Click here
for more info.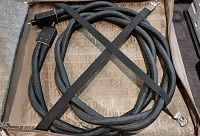 Retail Price:
$35,000
Price (SGD):
$16,500
SOtM DCBL-CAT7 Audiophile Ethernet Cable 3.5m
No matter how far out the Network Audio technology has been developed, the pleasant music listening would be incomplete under the condition highly stable networking is secured. As well, no matter how the fast network transmission is made under stable condition, unless otherwise the sound quality and performance of network cable is outstanding, the system shall not be able to provide the genuine beauty of music itself.
The dCBL-CAT7 cable is a specially designed, high-end audio network cable with excellent sound characteristics and provides stable, ultra-high speed transmission.
The newly added Filter Block eliminates the wide band digital noise inflow from the router or NAS. This 'noise' can interfere with audio signals, and the dCBL-CAT7 cable is designed to remarkably improve the tonal balance and enhance the nuances and beauty of your music.
In mint condition, with original box. 3.5m length
Click here
for more info.
Click here
for full review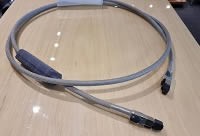 Retail Price:
$1,050
Price (SGD):
$550
Sonus Faber Amati Tradition Floorstanding Speaker
Amati Tradition represents the synthesis of original concepts and architectural ideas. The flagship of the Homage Tradition collection, Amati is the new reference floor standing loudspeaker in the Sonus faber catalogue,
All the speakers in the Homage Tradition collection have been the subject of a very careful electroacoustic study; the patents and technological solutions developed by the Sonus faber in Aida, implemented and adapted with Lilium, the Cremonese and the Olympica collection are once again taken up and brought to increasingly satisfactory results, adapting them to the needs of these new projects.
This is the latest version of the legendary Amati series, and probably their best! In pristine condition and looks like new! Comes with accessory box, owner's manual, and accessories.
Click here
for more info.
Click here
for full review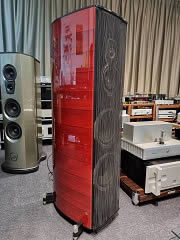 Retail Price:
$45,000
Price (SGD):
$19,800
Ansuz D-TC Power Box
The Ansuz PowerBox is developed with the aim of delivering clean low voltage to the cables and speakers. This is overall solved by reducing the noise heavily and controlling the resonances. Various Ansuz technologies and principles are used in order to deliver a huge soundstage with openness musicality and details. The recurring technologies are securing that almost no noise is transferred from the PowerBox to the cables and speakers.

The Ansuz D-TC Power Box is a further upgrade with even more Ansuz active coil and dither technology. Equipped with all these audio technologies, this power box secures a natural and balanced holistic soundstage with an amazing black background. A refined sonic authenticity that unfolds even the finest, most subtle details throughout the entire sonic sound spectrum.

In mint condition, with original box.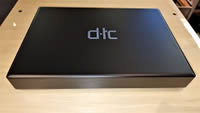 Retail Price:
$4,800
Price (SGD):
$1,995
Argento Audio FMR XLR Digital Cable 1m
Featuring all the breakthroughs of the Flow and taking them another step further - the Flow Master Reference is the Argento Audio masterpiece.
The Flow Master Reference is simply - In the words of many customers that have gone from the Flow to the bigger sibling - "More". Not just a little here and there but a rather a real step up in performance while retaining the beauty of the Flow.
​
The main features of the Flow Master Reference cables:​
​*Three-time as many conductor strands than in the Flow.
*The cryo and polishing process is now a triple process.
*Each polarity is travelling in its own completely separate cable with VDMTM.
*The incorporation of separator spacers maximizes anti-vibration performance and outside disturbances sensitivity.
*Annealed parts for even improved contact and reduced resistance.
*Each one-meter pair of Flow Master Reference *interconnects contains no less than 70 custom designed, CNC machined parts.
In mint condition, with original leather presentation case.
Click here
for more info.
​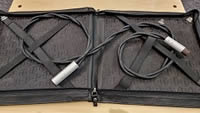 Retail Price:
$6,000
Price (SGD):
$2,800