Hegel H390 Integrated Amplifier
(Sold)
At the heart of the H390 is Hegel's patented SoundEngine 2 amplifier section. The SoundEngine 2, in many ways, works like a noise canceling headphone. A computer inside will sample what comes into the amplifier and compares it to what comes out. The computer subtracts the difference (distortion) and then add it into the music but in reverse phase. The result being that, without any time delay, the SoundEngine cancels out almost all errors made by the amplifier. Leaving you with the most musical and natural sound you ever have experienced.
The H390 is a complete product. Great care has been taken in every step of the design. From carefully selecting and matching components to using the best measurement equipment in the world, in combination with our own ears.
In near mint condition, with remote control, owner's manual and original box.
Click here
for more info.
Click here
for full review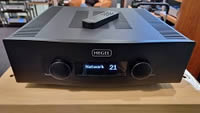 Perpetuum Ebner PE 4040 Turntable
(Sold)
The Perpetuum Ebner PE 4040 (MKII) is one of the best turntables ever developed and built in St. Georgen. PE's high-end model is a sub-chassis turntable in a class of its own for customers with the very highest demands.
As the successor to the legendary 2020 model from the late 1960s, the PE 4040 is an absolute reference among our belt-driven turntables. In our manufacture, the optically two-part chassis can be configured in freely selectable individual combinations of materials, colours and paint surfaces. Thus, the PE 4040 is not only a reference turntable, but also a one-of-a-kind if the buyer desires so. The spring-mounted sub-chassis provides the best possible decoupling from external resonance influences.
*High end turntable with subchassis
*Belt drive with synchronous motor
*Tonearm 9,2 inch (TP 92)
*RCA outputs
Click here
for more info.
Click here
for full review
Transrotor Fat Bob S Turntable
(Sold)
Transrotor Fat Bob S features:
*Metal turntable constructed from aluminium, stainless steel and brass
*Plinth/Base: 40mm thick aluminium alloy with an optimized design to minimize resonance
*TMD bearing: 7lb Transrotor magnetic bearing
*Large tonearm base, which is fastened to the base, is designed to further minimize resonance
*Inverted hydro dynamic oil fed bearing
*Platter: solid aluminium alloy 60mm thick
*External regulated clean power supply, extra heavy duty chassis, with speed selection and fine pitch control
*Dimensions: 7" h x 17-1/4" w x 14-3/4" d
*Weight: 55 to 66lbs depending upon options
Comes packaged with 9" SAEC tonearm.
Click here
for more info.
Click here
for full review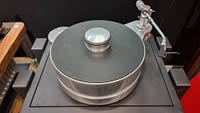 Da Vinci Labs Reference Grandezza MC Cartridge
(Sold)
"If you prefer to hear what's actually on your records rather than a more bespoke version of same this may be the cartridge for you. It is for me. The DaVinci Reference Grandezza is my new reference."
Jonathan Valin, Executive Editor TAS
In absolutely mint condition! Very low playing hours and still looks like new. Comes with original wooden box
Click here
for more info.
Click here
for full review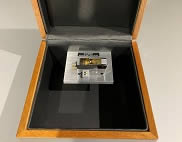 Berkeley Audio Alpha DAC Series 2 DAC with Alpha USB Interface
(Sold)
*The Alpha DAC Series 2 employs new clocking and isolation technologies that provide enhanced imaging precision, timbrel purity and resolution.
*Unequaled interpolation technology up-samples 44.1kHz CD's to provide almost 176.4kHz quality and produces superb fidelity at all sampling rates from 32kHz to 192kHz
*IR remote control of all functions including volume and balance allows direct connection to power amplifiers
*Advanced input signal jitter rejection
"The original Alpha DAC was a groundbreaking product, both in absolute performance and in its spectacular value. The Alpha DAC Series 2 is considerably better, and in musically significant ways." "The Alpha DAC Series 2 would have received my highest recommendation had it cost $15,000. Yes, it sounds that good. That it sells for $4995 qualifies as a minor miracle." — Robert Harley, The Absolute Sound
In excellent condition, with remote, manual and original boxes for both items.
Click here
for more info.
Click here
for full review of DAC
Click here
for review of Alpha USB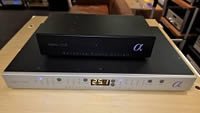 Silbatone S.E.A. represents the following brands: Silbatone Acoustics, PS Audio, Audio Solutions, Audience, Bryston, Reed, Kronos, Gershman Acoustics, Audio Philar, My Sonic Lab, G.I.P. Laboratory and Flux Hifi.

Audio Research Reference 75 Power Amplifier
(Sold)
The Reference 75 is a stunning amplifier in every way – performance, styling and reliability combined to elevate your music listening to a new experience. Capable of controlling a wide variety of speakers, the Reference 75 will transport you into the musical performance unlike any other comparable amplifier.
The Reference 75 is the new generation from a lineage of amplifiers only Audio Research could produce. Experience real music and unleash the capacity of your system – music in High Definition®.
In mint condition, output tubes recently replaced.
Click here
for more info.
Click here
for full review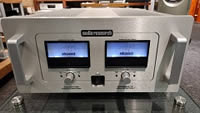 Gryphon VIP Reference Speaker Cable 2m
(Sold)
The Gryphon VIP loudspeaker cable incorporates multiple individually insulated multi-strand conductors of the purest PC-OCC silver with varying diameter in order to combat resonance. Teflon is utilised for tight-fitting, effective insulation. For extreme stability and durability, the two conductors are wrapped in PVC jackets and nested alongside two PVC sheaths filled with air-core Polyethylene tubes to maintain constant distance between the conductors.
Finally, cotton filling, a non-woven fabric sheath and an outer jacket of thick PVC are fitted to create a rigid construction that protects the conductors from external mechanical forces and damage caused by bending and flexing.
In mint condition, with original carry case and papers. 2m pair, factory terminated with gold spades.
Click here
for more info.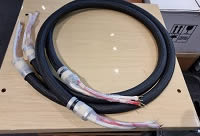 Sonus Faber Guarneri Memento Loudspeaker
(Sold)
System: 2 way vented box loudspeaker incl Stands
- Cabinet:lute shape design, constrained-mode damping, enclosure formed using 21 pieces of hand selected solid maple wood.
- Tweeter: 25 mm ultra dynamic linearity ring radiator driver, with dual toroidal wave-guide.
- Mid-woofer: 150 mm ultra dynamic linearity driver. Ccaw/kapton "eddy current free" voice coil. Dynamically linear magnetic field motor incorporating kellog and faraday rings. All moving lements optimally ventilated for "resonance free" response.
- Cross-over: designed along the philosophy of the least interference with the musical path. The conceptually minimalist implementation uses 6 db/octave slopes and components of the highest quality and coherence. A unique structured silver-palladium alloy conductors used, totally coherent on the entire signal path.
Cross-over point 2.500 hz.
- Frequency response: 39 hz - 30.000 hz, tuning port included.
- Sensitivity: 88 db spl (2,83 v/1 m).
- Nominal impedance: 4 ohm.
- Power handling: 30w - 200w, without clipping.
In excellent condition, with matching original stands. A true legend and one of the iconic Sonus Faber models that are highly sought-after.
Click here
for full review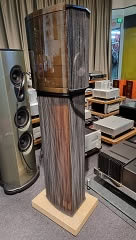 VAC Signature Mk.IIa SE Preamplifier
(Sold)
The Signature's line stage has no coupling capacitors to detract from the purity and detail of the hand-wired circuit. With no loop feedback, the output is stable and free from dynamic interactions with the load. Six standard line inputs (five when phono is fitted) are present, as well as a fully balanced Cinema Bypass input.
The optional six-tube phono stage is sensitive and quiet, compatible with low-output, moving coil cartridges. Gain is adjustable, as is resistive loading. Electrostatic decoupling prevents the heater circuits from "talking" to each other, a common cause of lost detail. A separate power transformer is used, eliminating any disturbance of the delicate phono signal by the powerful line stage.
The VAC logos are backlit in an elegant blue in normal operation, and display red when the mute is activated. These are set in the heirloom-quality sculpted 3/8" faceplate.
The Signature SE (Special Edition) input transformers are the premium designs used in the Statement and Master ranges.
This is the current model in mint condition, with remote control. This unit also includes the optional full-tube phono stage.
Click here
for more info.
Click here
for full review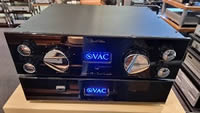 Lenco L75 Idler-Drive Turntable with Shure V15 III HE
(Sold)
The Lenco L75 record player is a precision instrument of true hifi quality which will satisfy even the most demanding music love.
The instrument can be used for stereo as well as monophonic listening.
The usual speeds can be pre-set in click stops and the speed can also be varied continuously from 30 to 86rpm.
The light tonearm of the L75 is a first class example of fine mechanical precision, and guarantees clear, undistorted sound reproduction, with the greatest possible protection for your records.
In excellent condition and nicely reconditioned. Comes packaged with an almost new Shure V15 III HE cartridge and spare stylus.
Click here
for more info.
Click here
for review