Sonus Faber Cremona
(Sold)
Specifications
Three-way, reflex-loaded, floorstanding loudspeaker
Drive-units:
• 1" (25mm) ring-radiator tweeter
• 5.5" (140mm) paper-cone midrange unit
• Two 6" (153mm) paper-cone woofers
Crossover frequencies:
Not specified
Crossover filters:
First-order, "optimized for acoustic phase response."
Frequency Range:
32 Hz - 40 kHz
Sensitivity:
90 dB/2.83V/m
Nominal impedance:
4 ohms
Power handling:
50 - 300W without clipping
Still in excellent condition, with grills and spikes included.
Click here
for full review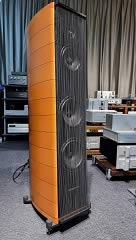 Kondo KSL-SPz 2m Pair
(Sold)
Previous top model Kondo pure silver speaker cable, terminated with Kondo silver pins on both ends. 80 strands of pure silver litz wires per channel.
In excellent condition, with original box and certificate. Please note that this is the later red jacket version. The earlier version is brown coloured.
Also note that this pair comes with high quality Furutech FP-202G gold plated banana connectors. If there are detached, you will see the original Kondo silver pin terminations.
Click here
for review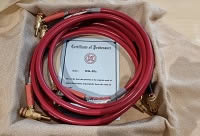 Oyaide Tunami GPX-R V2 Power Cord 1.8 M
(Sold)
TUNAMI is a powerful, high-speed and dynamic power cable of a new generation. The short-pitch stranded PCOCC-A wire which has 5.5sq cross-section area actualizes high-power signal transmission. Its cable voltage endurance is 600V and maximum amperage is 30A. For noise protection, we specially developed the triple-layered shielding structure. It not only rejects internal and external noise, but also instantaneous spark noise due to vibration.
From the deep stillness of TUNAMI GPX-R, you can even sense the atmosphere of pre-performance of sound source.
Click here
for more info.
Click here
for review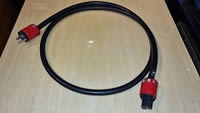 Manley Labs Reference 240 Monoblock Power Amplifier
(Sold)
The Manley 250 Watt Monoblocks are some of our most powerful push-pull production-models.
Both the circuit design and the selected componentry have been refined over years and years of development. Reliability that you can depend upon combined with musical accuracy and emotional authority is what these amplifiers promise- and deliver. They are able to switch operation modes allowing the listener to choose between the sonically seductive qualities of triode and the more powerful tetrode configuration. We use big, beefy reservoir capacitors in the high voltage supplies giving plenty of instant energy for dynamic performance of transient peaks and bass impact and weight which often exceeds that of rival solid-state amplifiers. We run high voltages on the plates of the output tubes but operate them at lower current which will result in their longer life.
In our own in-house magnetics department, our team completely redesigned all of our output transformers with the goal to reclaim that luscious rich mid-range of our vintage designs. We also specifically set out to achieve a deeper bottom register at higher power with lower distortion.
In excellent condition, this pair of monoblocks has been fully serviced and re-biased by a competent technician. Guaranteed in perfect working condition.
Click here
for full review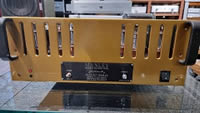 HRS DPII-14545 Damping Plate
(Sold)
The HRS Damping Plate incorporates a highly effective design to eliminate component chassis noise revealing a new level of musical performance. They are precision manufactured from billet-machined aircraft aluminum and proprietary HRS polymers. A very specific amount of mass, stiffness, and damping from these products eliminate chassis resonance problems and transform residual chassis energy to heat. This is a special system utilized by audiophiles and industry professionals as their reference chassis noise reduction system.
In mint condition, with original box.
Click here
for more info.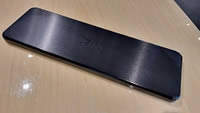 Silbatone S.E.A. represents the following brands: Silbatone Acoustics, PS Audio, Audio Solutions, Audience, Bryston, Reed, Kronos, Gershman Acoustics, Audio Philar, My Sonic Lab, G.I.P. Laboratory and Flux Hifi.

PS Audio Power Plant 12
(Sold)
The DirectStream P12 is PS Audio's most compact high-end personal power generating station available now. It is the successor of the venerable P5 Power Plant relied upon by thousands. The P12 is all-new, based on the P5, but rebuilt from the ground up. It features an ultra-low impedance analogue power amplifier, pure DSD FPGA based sine wave generator, and the lowest distortion available in a Power Plant. The P12 is capable of powering most small to medium-sized systems and bringing forth all that's possible from your system ensuring you get the same great performance every time you listen.
In mint condition, with remote, owner's manual, power cord and original box. Latest model and still in production.
Click here
for more info.
Click here
for full review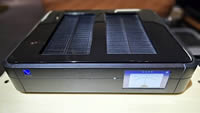 HRS MXR 4-tier Rack with M3X Shelves
(Sold)
The MXR Audio Stand is an industry leading design that eliminates noise, revealing a new level of musical performance. The frame itself is manufactured from six different materials including billet-machined aircraft aluminium and exotic finishes over a composite inner frame structure. The highly acclaimed HRS Isolation Bases load directly into the MXR frame as the shelf system. The MXR frame optimizes Isolation Base performance while offering unique flexibility and functionality. It is the last system you will ever need.
*Fully adjustable shelf system (quantity and location).
*Load range of each shelf optimized for maximum performance.
*Levelling system with locking feature for stability.
*Infinite cable access (no vertical or horizontal beams).
*Structure design for optimum Isolation Base performance.
*Unlimited expand-ability preserves initial investment.
Four ultra high frequency billet machined brackets support each shelf. The brackets are adjustable vertically allowing you to select ideal shelf spacing for your system. Regardless of the final shelf location you still will have infinite cable access because there are no front or rear braces to the main structure. You can also add or remove a shelf at any time without any modification to the rack structure or detracting in any way from its exceptional performance or beauty. The MXR Audio Stand was simply designed to be the last equipment stand you will ever purchase.
In pristine condition and comes with heavy-duty metal cone footers (not shown). Probably the most beautiful and well designed high-end audiophile rack you will ever see! Birdseye maple finish.
Click here
for more info.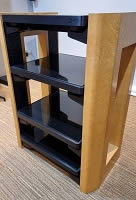 Ansuz Digitalz D-TC USB Cable 2m
(Sold)
The Ansuz Digitalz USB D-TC cable is fitted with Ansuz's exclusive, high-performance technologis. Equipped with all these high-end audio technologies, this cable creates a natural and balanced holistic soundstage with an amazing black background. A refined sonic authenticity that unfolds even the finest, most subtle details throughout the entire sonic sound spectrum.

Cutting edge technologies.
Ansuz develops and manufactures cables based on advanced, cutting edge technologies. Ansuz cables deliver a pure signal flow that unleashes the authentic sound originally intended by the master recording. To achieve this, it is imperative to lower resistance, curb induction and reduce noise floor to a minimum. The more advanced the cable series, the more refined and sophisticated the implemented technologies, and the more transparent, holistic and authentic the resulting soundstage.

In as new condition, with grounding wire.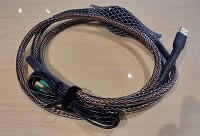 Finite Elemente Ceraball (set of 3)
(Sold)
The genesis of the CERAfamily offers an excellent access into the world of finite elemente's sound enhancing systems. This being the 2nd generation version, Ceraball provides a screw-on function as well as an attractive budget price.
In near mint condition, with original box and accessories.
Click here
for more info.
Click here
for review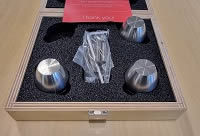 SOtM DCBL-CAT7 Audiophile Ethernet Cable 3.5m
(Sold)
No matter how far out the Network Audio technology has been developed, the pleasant music listening would be incomplete under the condition highly stable networking is secured. As well, no matter how the fast network transmission is made under stable condition, unless otherwise the sound quality and performance of network cable is outstanding, the system shall not be able to provide the genuine beauty of music itself.
The dCBL-CAT7 cable is a specially designed, high-end audio network cable with excellent sound characteristics and provides stable, ultra-high speed transmission.
The newly added Filter Block eliminates the wide band digital noise inflow from the router or NAS. This 'noise' can interfere with audio signals, and the dCBL-CAT7 cable is designed to remarkably improve the tonal balance and enhance the nuances and beauty of your music.
In mint condition, with original box. 3.5m length
Click here
for more info.
Click here
for full review