Reed - Authorised Distributor
Acoustic engineering knowledge and experience in high-end audio field lead to the establishment of Reed. The designer and company owner, Vidmantas Triukas, has been working in hi-fi audio equipment field for many years.
Reed puts all the love of music into the tonearms and turntables that they build and hope they will paint a silence in your room in all colors of the orchestra. Their concept is based on physics, where mechanics, acoustics and electronics combine into one system. Sharing their passion for music is what they do every day. Creating, innovating, designing and building ... And starting it all over again.
View product reviews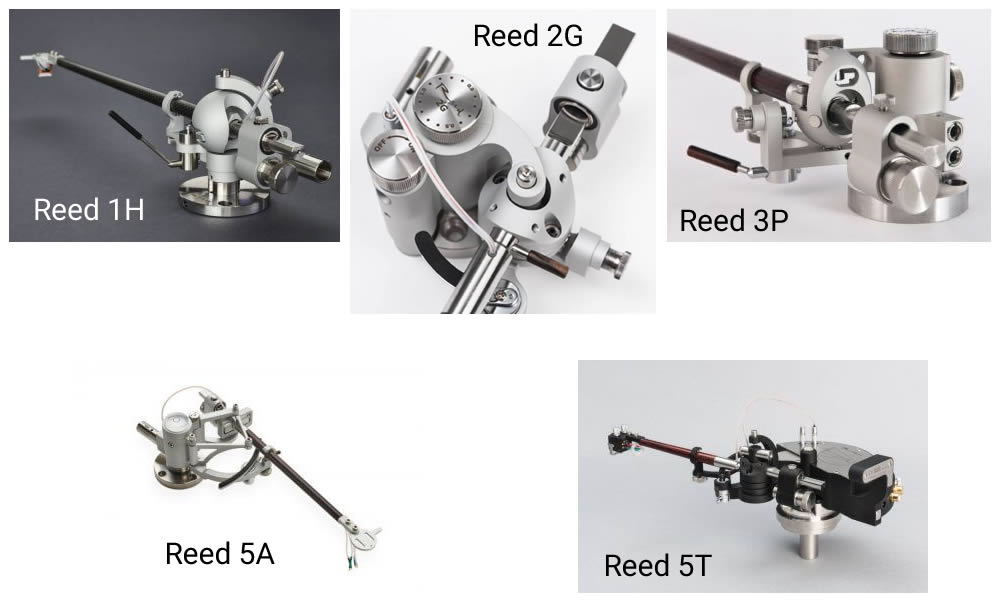 Reed 1H is the latest addition to our entry level tonearm series. And, for the first time, we introduce carbon fiber as primary Reed 1H's armwand material. After a thorough research we found a way to make the carbon fiber armwand's acoustic properties close to ones that normally are typical for the wood. By using soft wood to damp the carbon fiber tube, our new armwand's acoustic properties become considerably better than using carbon fiber alone, and can be compared to wooden armwands.

Reed 2G is tonearm model, which merges the best features of Reed 2A and Reed 3Q tonearms and adds a few new ones. Reed 2G is very easily adjusted and can be mounted to virtually any turntable with or without an adapter.

Reed 3P, among other features, like fine VTA adjustment on-the-fly, also has a unique possibility of adjusting azimuth while playing a record. An exciting thing about the azimuth adjuster is that during the adjustment process the cartridge "swings" around the needle tip, hence keeping all other tonearm parameters intact. Magnetic antiskating and some other features, used in Reed 3P, were developed in our Reed Mag prototype model".

Reed 5A tonearm introduced as angling- 90o -tangential-pivot-tonearm, it is based on Double Birch/Thales geometry and will complement our tangential tonearm lineup. Tonearm geometry is optimized for minimal tracking error.

Reed 5T is our first appearance in the tangential tonearm domain. Featuring unique design, innovative technological solutions and high quality, and dedicated to a true audio passionate, it is one of the most advanced tonearms we have ever made. Reed 5T technically is a tangentially tracking pivoted tonearm.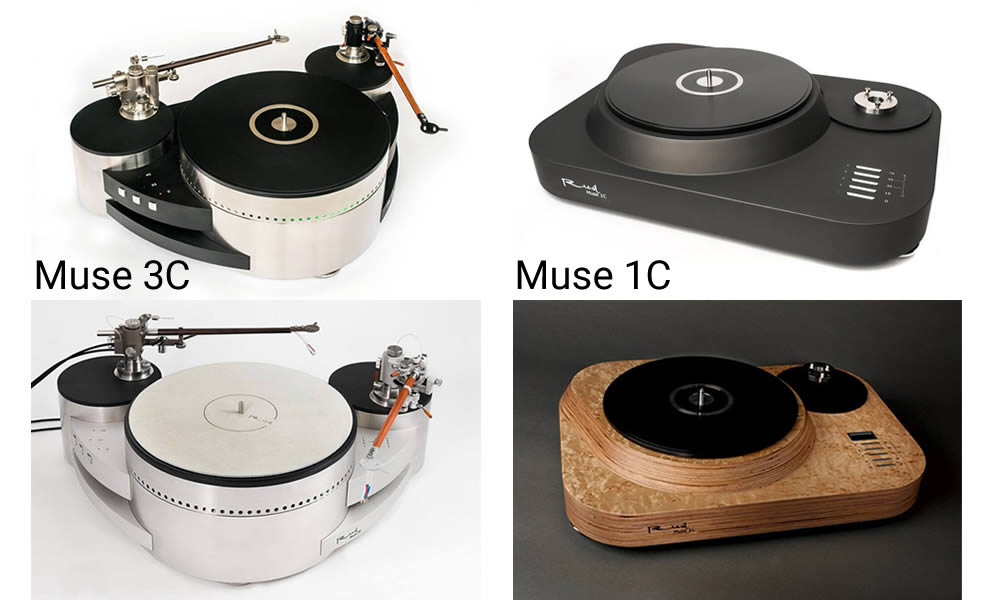 Reed Muse 3C: After extensive prototyping and long-term experiments we came up to a solution of using a reverse sliding thrust ball bearing for a main axis. Bearing ball is made either from steel or ceramics and the lateral stability is achieved by using very durable and low-noise polymer sliding bearing. Symmetrical drive system is designed to avoid radial bearing load, hence minimizing possible mechanical noise and ensuring longevity of a master bearing. Muse 3C is powered by two direct current motors and by design is friction-driven, however its major innovation is possibility to convert it to a belt-driven system in minutes by replacing traction rollers and putting on a belt (and, of course, setting a switch to a correct position).

Reed Muse 1C is our first step into traditional design, middle range turntable market, while keeping our commitment to highest quality and representing our passion for innovations. Shaped with traditional 70ies design elements in mind, Reed Muse 1C features robust, stable and resonance-free wooden body, however a lot of Muse 1C technologies, including main bearing and drive traction control, are inherited from our flagship Muse 3C. Traditionally, Muse 1C can play 33 and 45 RPM records, however if you have 16 RPM or 78 RPM LPs, you will find these operation modes in Muse 1C as well.